Top 7 Best GPS Dog Collars and Pet Activity Trackers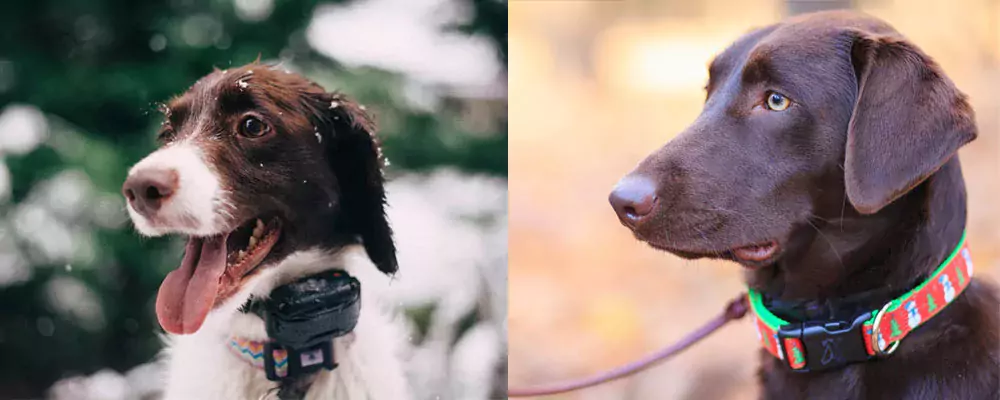 We all can comply with the fact that pets are man's pal, but this pal requires constant eagle eye on their whereabouts that has been made easy by the availability of modern and advanced GPS collars/pet trackers which are not used only for controlling dogs or your pet but it helps to monitor their behaviors like licking, scratching heartbeat, and location. Here are the top 7 best GPS dog collars and pet activity trackers you can get to watch out for your furry friends.
You can control barking through its collar; also, these devices allow you to train your dogs and pets as required. With the help of the below-mentioned wearable trackers and collars, you can make sure your pets, dogs, or cats are safe and healthy.
1

Tractive Waterproof GPS Dog Tracker

When it comes to our friends we have this urge to be on their tails every moment so for this The Tractive Waterproof GPS Dog Tracker facilitates you to outlook the whereabouts of your pup anywhere by accessing the location history to your smartphone. You can keep tabs on the live location, which gets updated every 2-3 seconds.
Following are the advanced features the device offers:
You can keep track of your pets healthy by monitoring its activity time and rest time along with calories burned by the pup. Besides that, you can find how long and where your pet stayed to discover your pup's favorite spot.
Here's what can help you to decide about purchasing this product or not.
| | |
| --- | --- |
| Pros | Cons |
| Worldwide coverage | Subscription Required |
| Waterproof | |
| Virtual fence | |
2

Whistle Go Explore GPS Pet Tracker & Activity Monitor

Whistle Go doesn't only offer GPS tracking of pets, but it furthermore sends reminders through texts to users about their pet's location or medical concerns reminder; it holds importance among its buyers because of its amazingly accurate location chasing ability and how it guards the health of the pet.
Whistle Go can immediately detect the sudden changes in your pet behavior which could be early symptoms of any medical issue with your pup; it avails you to chat with the vet whenever needed. Whistle Go is considered one of the best GPS dog collars.
Here are the reasons why you should or shouldn't purchase this tracker:
| | |
| --- | --- |
| Pros | Cons |
| Goes for all sizes of dogs | Subscription required |
| Free Tele-vet | |
| Cost-effective | |
| Health Monitoring | |

The second step after getting a dog is to get yourself a collar; the more innovative the collar will be, the lesser stress pet's keeper deals with as it gets easier to keep eyes on your pups.
Fi dog collars (series 2 model) not only track your dog but also help you in dog training. This device has no amount of steps required to track your pup friend.
It can track your dog and will keep updating you about his whereabouts on your smartphone app. Apart from these benefits, this device also monitors your furry friend's health and can connect you with a vet if needed.
| | |
| --- | --- |
| Pros | Cons |
| Multiple sizes available | Only words with provided collar |
| GPS Tracking | App feels unpolished and unintuitive |
| Strong battery life | |
| Can provide a lot of health information | |
4

Garmin T5 GPS Dog Collar

Garmin T5 GPS Dog Collar is a top mount device with elevated sensitivity GPS recipient. It can track only dogs. It is watertight and uses LED beacon lights operated by handheld gadgets, and works perfectly in low or dim light conditions that can detect from lasting ranges.
Moreover, Garmin T5 GPS Dog Collar has a rechargeable battery and is attached to your pups through a blue strap.
Another thing about this tracker is you can have a wide variety of colors of replaceable straps. This device consists of features including vibration & audible tone, which helps you to your pup's attention and can be used to train your dog. Overall the collar can maintain your pet's active lifestyle.
Following pros and cons might help you to decide to buy it or not.
| | |
| --- | --- |
| Pros | Cons |
| Works in dim light | Replacement straps are sold separately |
| Rechargeable battery | App feels unpolished and unintuitive |
| 3.9 miles range | |
5

Whistle Switch Smart Collar

Whistle switch smart collar can help you to track your pet with an LTE connection that is always on. Why I am listing this collar in the top seven best ones is because you have two interchangeable batteries; it simply helps you not to miss activities of your pets for a moment.
Whistle switch smart collar even avails you to view the monthly activities of your pet through the graph. You can E-mail your vet in the app even on noticing slightly unusual behavior.
The mobile apps get alert if it feels your pet is escaping or in an unusual place and will notify you as it gets updated after every 15 seconds.
Here's what you are getting if you are purchasing this collar.
| | |
| --- | --- |
| Pros | Cons |
| Interchangeable batteries | Suitable for small pups only |
| Multiple subscriptions plan | |
| Health Monitoring | |
6

Dogtra Pathfinder GPS Tracking Collar

This device allows you to track and train your pet. It is the only e-collar organization having IPX9K. It works offline without cellular data or Wi-Fi by making you download offline free maps.
It enables you to access Google maps with satellites and terrain views & can track up to 21 dogs at a time. It has a correction and audible tone to track and even train your pups.
The Dogtra is serving for 30 years to professional dog trainers to train them intelligently and responsively, i.e., hunters, military dogs, etc.
If you are purchasing this collar, these are the pros and cons you should know before getting this gadget.
| | |
| --- | --- |
| Pros | Cons |
| Availability of different materials | It might take a few moments to connect with phone when you're indoor and distant from GPS |
| Easy setup | |
| No subscription needed | |

The idea of hanging a collar around the neck of your dog is appeasing as long as your tracker doesn't dull the sparkle of your dog; I've seen adorable pups with ugly trackers on their neck; therefore, the Link AKC is smart collars assists you with attractive leather and sport collars.
It doesn't limit its services to looks only facilitates you with GPS location and activity level tracking.
My favorite feature of this collar is that it records and shares the memories you made with your pup. It even updates you on the temperature changes your puppy is going through.
It aids you in locating your dog at night by turning on LED lights and has sound features to train your dog.
| | |
| --- | --- |
| Pros | Cons |
| 3  years warranty | Expensive subscriptions |
| Includes  almost all features | |
| Beautiful and attractive product | |
Taking care of a pet is extremely important, especially if it's a new member of your family. You should know whereabouts all the time, and for this purpose, this article highlights the best GPS dog collars and pets for 2021 that you can get at an amazing price. Go through the details of each and see which one is going to be the best for your new friend.