10 Smart Home Devices That Will Upgrade Your Daily Routine
Smart home devices stand out for featuring a wireless sensor that you can place in any room.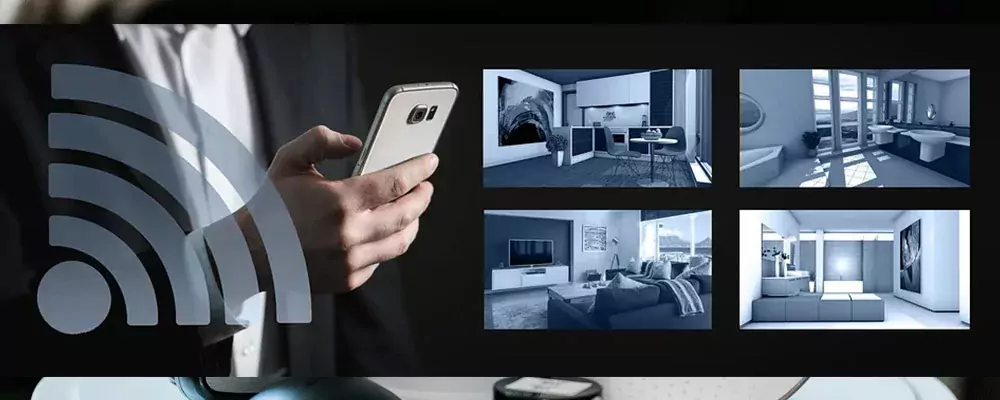 If we look around, we can see how humans are time-starved. No matter how many schedules we set, our to-do's precedes over the hours available. A smart home filled with smart electronics and devices will not only save your time but will provide you with more quality work than a tired human can. There are several important things to consider before buying, we have collected a list of 10 smart home devices that will upgrade your daily routine. Most smart devices are easy to set up and make your day just a little bit easier.
A smart home doesn't make you lazy. It makes you work smartly. You can turn your house into a smart one by adding smart devices from smart devices such as smart doors, locks, ovens, etc.
Following are the 10 smart home devices that will upgrade your daily routine.

A smart home hub is the core of an automated home. Smart home hub unites all your smart devices under single control. Although every individual device will have its own particular settings, a smart home hub centralizes your smart device.
The Amazon Echo (4th generation) and The third-generation Samsung SmartThings hub are the best smart home hub for most people to connect hundreds of devices, more than most other hubs.
It saves you from the stress of switching between multiple apps for multiple devices. It prevents you from complicating your smart home. However, smart speakers are taking over the role of the smart home hub.
| | |
| --- | --- |
| Pros | Cons |
| Centralized control | Can be an extra expense if there are not many smart devices |
| Saves you from the hassle of controlling multiple apps | |
| Control motion center | |

Who would have thought there would be video doorbells, let alone smart video doorbells? A smart video doorbell permits you to see who's behind the door. You can easily set it up by connecting your Ring Video Doorbell to wifi through the Ring app and mounting it with the included tools.
These smart video doorbells are equipped with enhanced features that let you see, hear and speak to anyone from your phone, tablet, or PC.
Smart doorbells not only show you who's there but allow you to let in the person from anywhere, even if you're away. Yes! You don't have to wait at home for doorman duties. The smart video doorbell perfectly differentiates between humans, automobiles, animals, etc.
| | |
| --- | --- |
| Pros | Cons |
| Allows you to communicate with a visitor without leaving your bed | Expensive |
| Works with lots of third-party devices | Some features require a subscription |
| Records suspicious activities | |

Who does not get irritated when you have appliances to keep your eyes on after a stressful day? EVERY SINGLE HUMAN WILL.  Smart plugs are important assets to turn your home into a smart one. These smart plugs can go a long way in making devices, like lamps or TVs, go from mindless to smart with the quick install of an app.
You can monitor your electronics with a phone in your hand. You can let your phone control when you want your appliances to turn on or off by setting schedules in your phone app.
These smart plugs allow you to control your coffee maker, fans, lights, etc. Control from anywhere and free up your hands by using voice commands to control plugged-in devices.
| | |
| --- | --- |
| Pros | Cons |
| Low power consumption | Save as long as you're not overloading the device |
| Voice Control | |
| Time-saving | |

Oppressive heat or cold makes it hard to do our everyday tasks. A smart thermostat provides you with the services one can never be thankful enough for. A smart thermostat app is a thermostat that can be monitored through your phone app.
You can control your thermostat from your office, supermarkets, and restaurants.  It does not only balance the cooling and heating system of your house but also saves energy. Many thermostats are also analytics experts, generating a monthly report on your energy usage.
A smart thermostat lets you set a schedule and turns off itself when you are away and turns on when you are home. You can adjust your thermostat remotely anywhere on your phone or mobile.
| | |
| --- | --- |
| Pros | Cons |
| Saves Energy | Programming can be complicated |
| Efficient services | |
| Master monitor of temperature | |

A Smart home lock is a cue to a smart home. Secure entrances are essential for living without being worried about unwanted intruders trespassing on your home.
Smart home locks are easy to install on any door and you can get rid of house keys once and for all. Moreover, the interesting feature is that you can create permanent or temporary digital codes for guests.
These smart home locks come with a ton of features. The settings of smart locks depend upon their nature. Bluetooth smart lock asks you to be in close range to your house, whereas Wi-Fi enabled locks let you control your doors from anywhere.
The smart home locks serve you with voice control too. You can lock your doors away from your home now. Moreover, they can also alert you whenever your door is locked and unlocked.
| | |
| --- | --- |
| Pros | Cons |
| Saves Energy | Programming can be complicated |
| Efficient services | |
| Master monitor of temperature | |

If you are too occupied to wait for washing cycles, then a Smart washing machine will do the work for you. It avails you to control your washing appliance from anywhere on your phone.
Technology changing the way we clean our clothes. So it doesn't matter you are at the office or on the run. It will self-adjust the dose of detergents depending upon the number of clothes.
These smart washing machines are at the higher end of the market with the amazing benefits they bring.  Moreover, these machines will send you alerts if there's any default in the technical, blocked filters, etc.
| | |
| --- | --- |
| Pros | Cons |
| Time-saving | Tech-glitches |
| Less human efficiency is required | |
| Self-adjusting features | |

A smart vacuum is simply saving your time. You do not have to monitor it till the task is done. A Smart Vacuum cleaner creates a virtual map of your home.
Furthermore, smart vacuum helps you to cleanse your floors, carpets, tiles, etc. This vacuum is more efficient; it will even detect a thin layer of hair from your mats and will do the cleaning job for you.
A Smart vacuum cleaner is also referred to as a Robot vacuum cleaner. In fact, you don't even need to get off of the couch.
| | |
| --- | --- |
| Pros | Cons |
| Reduced cleaning time | Hangs C often |
| Easy to handle | |
| Programmed cleaning | |

Smart lighting is a good starting point if you are interested to build a smart home. Smart lighting speaks volumes about your smart home. Smart lighting gives the phone control of your home lights.
In addition, you can set a schedule for the lights when you want them to be on or off. Smart lights allow you to set the intensity of the bulb.  Smart bulbs also use less energy and last a lot longer.
They serve you with vacation mode where you can control even when you are away, so the intruders will think you are home. You can preset the settings of your light depending upon the occasion.
| | |
| --- | --- |
| Pros | Cons |
| Vacation mode | Expensive |
| Voice control | |
| Dimmable lights | |

Pets are fun to cuddle but a responsibility when it comes to their diet. Keeping a pet requires sufficient attention, but that seems impossible with a tough schedule. A Smart pet feeder allows you to set a schedule when you want your pet to be fed.
Smart pet feeders are very popular for those pet owners who want to keep and control a proper meal schedule even if they are not home. Most importantly, you always want to ensure that pets are fed regularly while you are away.
In addition, a smart pet feeder lets you control the amount of food; your pet's eating speed so that they don't end up eating too quickly. They have cameras in them so you can keep an eye on when your pet is having his meal.
| | |
| --- | --- |
| Pros | Cons |
| Easy set-up | Consistent monitoring is required |
| Worry-free days | |
| One year warranty | |

The definition of a perfect start includes starting your day with your morning beverage, i.e., coffee. Well, the definition of a smart coffee maker is one you can control through a mobile app or a smart assistant. Smart coffee makers can be connected through your phone or smart home hubs.
Most of the smart coffee makers work with Alexa, Google Assistant, and your smartphone to remotely brew coffee from anywhere, at any time with the Home Connect app.
Moreover, you can set your smart coffee maker working schedule on your phone and bless yourself with coffee whenever you want.  Almost all smart coffee maker works with Alexa and Google assistant providing you voice control over your smart coffee maker.
| | |
| --- | --- |
| Pros | Cons |
| Time-saving | Expensive |
| Scheduled coffee dose | |
| Voice control | |
Ease of life and comfortability is a desire of everyone, and this can be achieved easily if you have smart devices at your home. So what are you waiting for? Read on this article and see which device and equipment can help you the best. All products featured in this article are independently selected by our editors. However, when you buy something through our retail links, we may earn an affiliate commission.