5 Best Coffee Makers Designed For A Small Office
To make the process easier, you need a coffee maker to do the job for you.
Coffee is an integral part of the office culture. It helps get the team together, infuses enthusiasm into the workplace, and helps people stick to their deadlines. We all have a thing for coffee, from the pickiest of flavor profiles to the most adventurous of tastes; there is this one thing every person will agree on that we can't survive a whole day without a cup of coffee in the morning. When you have got the best coffee makers designed for a small office, it feels even tastier.
Additionally, buying coffee from outside is an expensive proposition, and when you have a small office, you do not need to serve your employees with a high-end coffee maker.
Here are the five best coffee makers for small offices in 2022 to provide freshly brewed coffee in the instant.
1

Cuisinart 12-Cup Programmable Coffeemaker with Hot Water System
It does not take up much space, which makes it the best Coffee maker for small offices. Designed perfectly for a small office, it will serve you 12 cups of fresh and delicious coffee each morning, making sure everyone in your office gets a cup of coffee in the morning.
It is a Programmable Coffee maker, so at the end of the day's program, it begins brewing the coffee for the next day. It is a very budget-friendly coffee maker perfect for small offices so everyone can enjoy a fresh and hot cup of coffee before a meeting.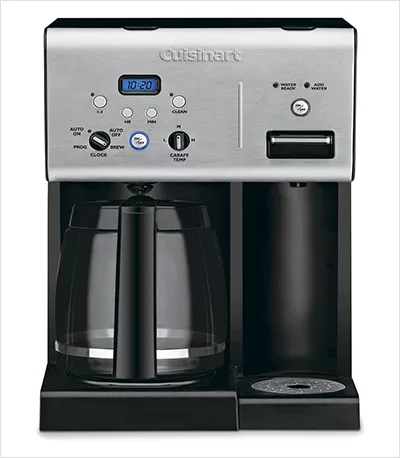 | | |
| --- | --- |
| Pros | Cons |
| Attractive design | The carafe is not easy to clean |
| Great taste | |
| Keep coffee hot for hours | |
2

Hamilton Beach FlexBrew Trio 2-Way Coffee Maker
Hamilton beach is a perfect and useful addition to your small office. If you are looking for a small, affordable coffee machine, then your search ends here. As its middle name is flex, it provides traditional ground coffee brewing. K-Cups are compatible and can brew 12 fresh cups of coffee.
If everyone in your small office is a coffee lover and can't start the day without a hot and fresh cup of coffee, then you need this excellent coffee maker that is capable of providing smaller quantities of coffee.
Additionally, it allows for single-serve use to avoid wasting leftover brew. It has a programmable feature for a traditional brew so that you can enjoy your coffee after a long meeting. Each brewing machine of this coffee maker has its own easy-to-fill water reservoir with a water window, so you don't put in extra water.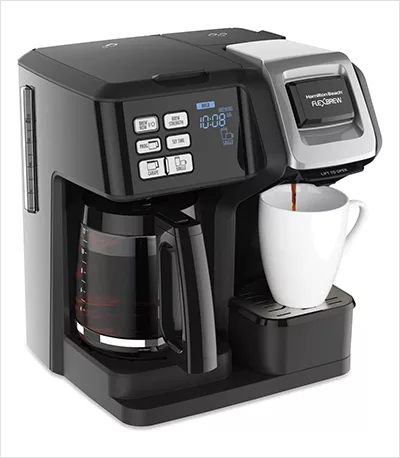 | | |
| --- | --- |
| Pros | Cons |
| Easy-to-use controls | Leaks coffee |
| Affordable price | |
| k-cups compatible | |
3

Cuisinart PerfecTemp 14-Cup Coffee Maker
Cuisinart PerfecTemp is a perfect piece to put in your office, which can turn up the temperature and flavor of your coffee as well as allows you to choose regular or bold coffee flavors according to your taste and liking.
It is a 14-Cup Programmable Coffee maker with cutting-edge coffee technology, so you don't have to compromise on your coffee's temperature, flavor, and quality.
It is a fully automatic coffee brewer; you need to set the brew time up to 24 hours, so your fresh coffee is ready when you come to the office the next day.
A Stainless-steel body with a stainless-steel handle goes perfectly well with your kitchen. Its backlit LCD is easy-to-read, with an indicator light that signals when it is time to decalcify it.
It also has easy-to-view water for accurately filling Brew Pause; you can finish your cup of coffee in peace before the brewing cycle has finished 60-Second Reset.
Furthermore, in most coffee makers, you have to reset the coffee maker all over again because of power loss, but with this coffee machine, you don't have to worry about setting the machine all over again in case of power loss. It Recalls settings and positions in the brewing process. A reusable gold-tone coffee filter and built-in charcoal water filter are also included.
It has a three years warranty to give you complete peace of mind.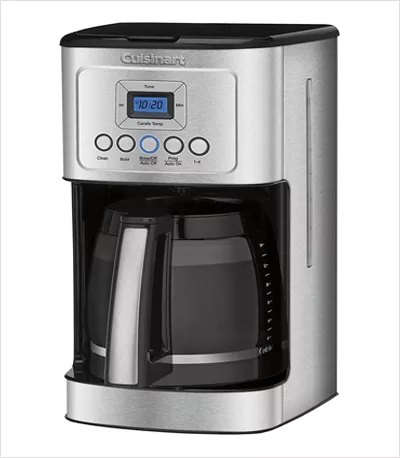 | | |
| --- | --- |
| Pros | Cons |
| Easy to use | Loud sound |
| It doesn't take too much space on the kitchen counter | |
| Fully automatic | |
4

Keurig K-Duo Coffee Maker
When you have a small office, you do not need to serve your employees with a high-end coffee maker. Companies like Keurig k55 are affordable and give you value for your money.
This coffee maker is k-cup compatible, which makes it best for coffee machines for unique flavor coffee drinkers. You can choose from hundreds of k-cup pod varieties from coffee, cocoa, and much more.
A Perfect coffee maker to brew a 6, 8, 10, or 12-cup carafe at once so you and your employees can enjoy coffee together. The k-Duo coffee maker is in black color to give your small office a perfect and elegant look.
The included 12-cup glass carafe and a heating plate will keep your coffee warm and fresh. You can also pause the mid-brew of the Keurig K-Duo coffee maker for 20-seconds so you can pour fresh coffee right away. If you like your coffee extra strong, use the Strong Brew button to enjoy an intense cup of coffee.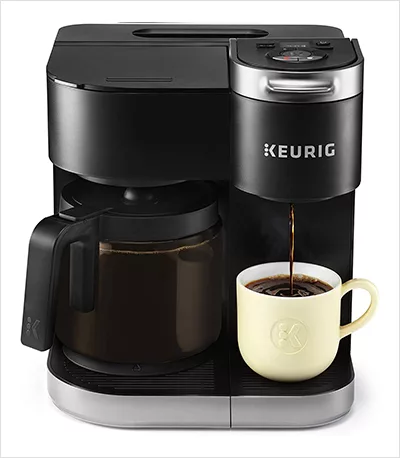 | | |
| --- | --- |
| Pros | Cons |
| Easy to use | Sometimes it stops working all of a sudden |
| Keep coffee warm for a long time | |
| Travel mug friendly | |
5

SYBO Commercial Coffee Makers
Nothing can be easier and tastier when this best coffee machine is in your office as it brews 12-cups of coffee to ensure everyone gets a hot and fresh cup of coffee in the morning.
Most coffee makers are challenging to clean but very easy to clean because they have a 304 food-grade stainless steel build which is corrosion and stain resistant.
Like other coffee machines that take forever to brew Coffee, SYBO Commercial Coffee Makers 12 Cup takes less than 10 minutes to brew delicious cups of coffee.
Moreover, this coffee machine guarantees hot cups of coffee with its vacuum insulation technology that locks in the temperature so you can enjoy your hot coffee whenever you want. It also has an indicator light to show the work status and remind you when your coffee is ready.
Suppose you are worried about leaving water overnight for a quick coffee in the morning and dust getting in it. In that case, you don't have to worry about it anymore because SYBO commercial coffee maker comes with a hinged lid designed to keep water safe from dust and keep it free from contamination.
It has a removable coffee powder filter grid, which is easy to clean and refill.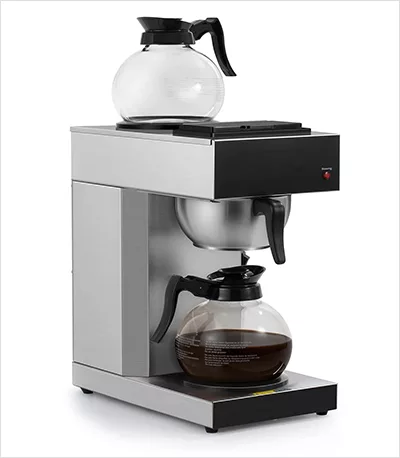 | | |
| --- | --- |
| Pros | Cons |
| Rust resistance | Sometimes condensation drips all over and makes a mess |
| Make faster coffee for more people | |
| It keeps coffee hot for a long time | |
Conclusion
We hope that now you know what the more suitable coffee maker you want to buy for your small office is. All the coffee makers discussed above are very affordable, good quality, and easy to use. If you and your employees can't function without a hot cup of coffee in the morning, then invest in any one of the best coffee makers discussed above, and you will not regret buying it.