The Five Best Home and Interior Design Software Programs
Are you in the process of moving out to your new house? Want to extend your kitchen? Or to change the interior of your lounge? Do you want to design your house according to your comfort and style but don't have its tools? Well, we all secretly want to turn our homes into extraordinary places. That's why we have come up with the five best home and interior design software programs.
Dreaming to have a stylish room, bathroom, lounge, and house is more fun now. Interior software programs help you to visualize how your new home will look. This software uses simple tools to make a layout according to your likes.
We have reviewed tons of interior design software programs for you to make your task of searching easy. We have created a list of the five best home and interior design software programs so you can select easily according to your requirements (features that suit your needs.) So, let's dive into the plethora of information.
Easyhome Homestyler Software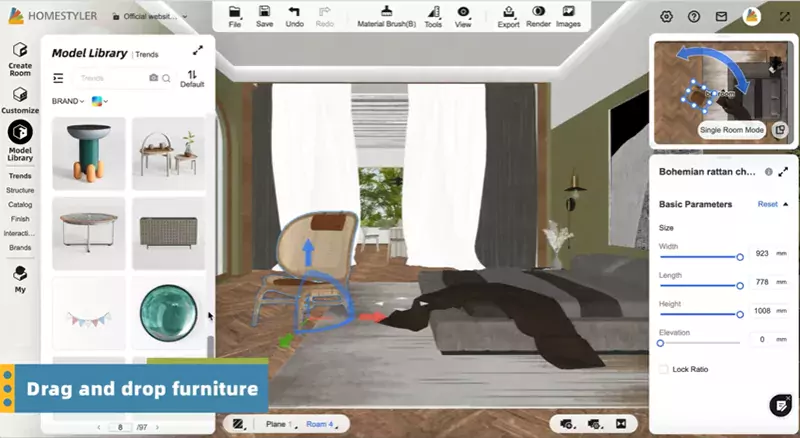 Dream big and relax when you have Easyhome Homestyler software. Budget-friendly and easy-to-use software help you to visualize more creative designs for your home. The staff is very keen to help you out is designing.
We recommend this software for beginners as it is easy to use. The beginners can also look at the gallery where millions of designs are available for Homestyle users. Moreover, Homestyler offers not only interior design but also exterior designing.
Create your 2D/3D floors into stylish ones in a few clicks. Enjoy the best experience with Homestyler. You might want to know about the pros and cons of Homestyler software, so here you go.
| | |
| --- | --- |
| Pros | Cons |
| Easy to use | It is slow to respond back |
| Economical | |
| It offers both interior and exterior designs | |
| Tutorial videos to help you learn | |
Virtual Architect Ultimate Home Design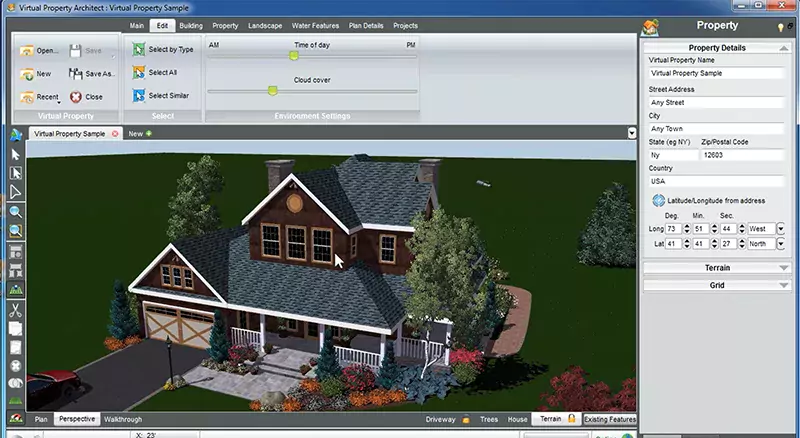 The software offers 3D virtual tours, a blueprint generator, materials needed list, and day and night lighting conditions. Full package. The name of this software changed from virtual architect ultimate home with landscaping and decks design to virtual architect top home design. It has gained popularity since its new name because of new features that capture users' eyes.
The software also offers innovative home design tutorials and efficient tools. Now you can create an innovative yet stylish look for your bedroom, kitchen, lounge, and floor from virtual architect ultimate home design software.
Make all your dreams come true by choosing this software.
| | |
| --- | --- |
| Pros | Cons |
| Best software overall | It might be costly for a few |
| Flexible for home designing | |
| Easy to use | |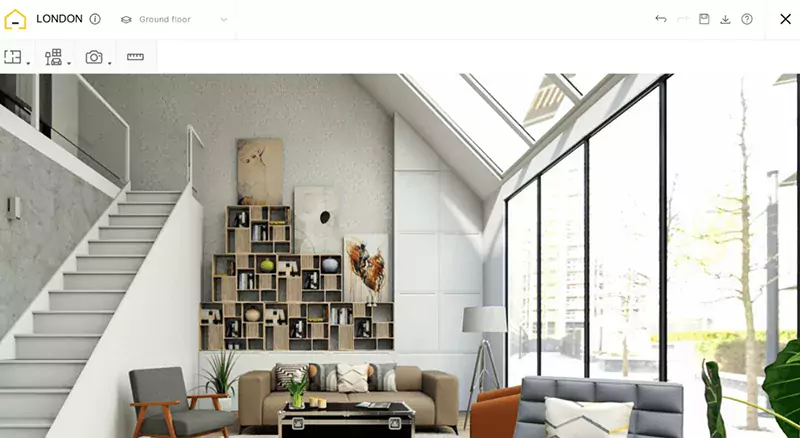 Want to convert your 2D floors into elegant 3D floors but are confused about how to do it efficiently? Don't worry; HomeByMe software is at your service. The software helps you to visualize fashionable and up-to-date floor designs.
HomeByMe is the best software for intuitive use. You can draw any detail for your room with the best tools provided by HomeByMe software. Moreover, you can select multiple designs for your carpets, floors, and curtains with one click.
An interesting fact about this software is, that it offers a free starter plan for new users. You should opt for this one to have splendid designs for your sweet home.
| | |
| --- | --- |
| Pros | Cons |
| You can take fantastic HD photos from it to seek help | This software sometimes can be unresponsive |
| You can take your project anywhere as this software is for mobile apps | |
| Best for intuitive use | |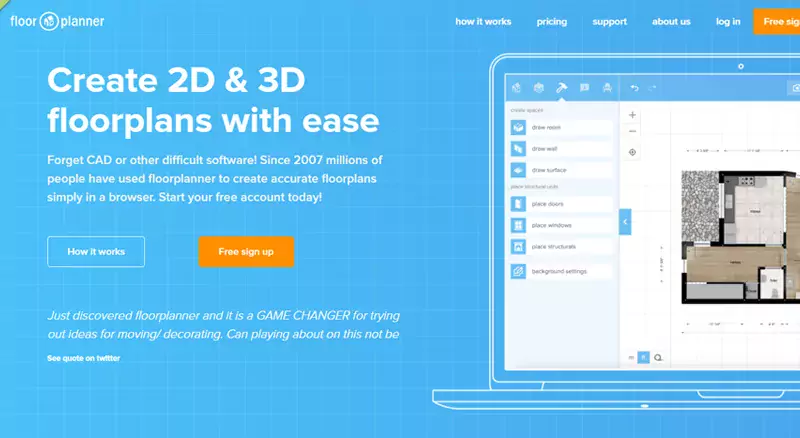 Floor planner home and interior design software were developed by architects and civil engineers. Their goal was to create software that is more accessible and easier to use for users. If you want to convert your personal space into a unique one, then go for Floorplanner.
You can also choose the design for your homes, real estate, interiors, and furniture.  It has a wide variety of features for users to draw what is best for them. Now you can plan your space with Floorplanner.
Floorplanner also offers a magical layout for your room decoration. Isn't it cool?
| | |
| --- | --- |
| Pros | Cons |
| It offers one free plan | Some people might face difficulty in uploading their models to the library |
| More accessible for users | |
| Easy and very fast to use | |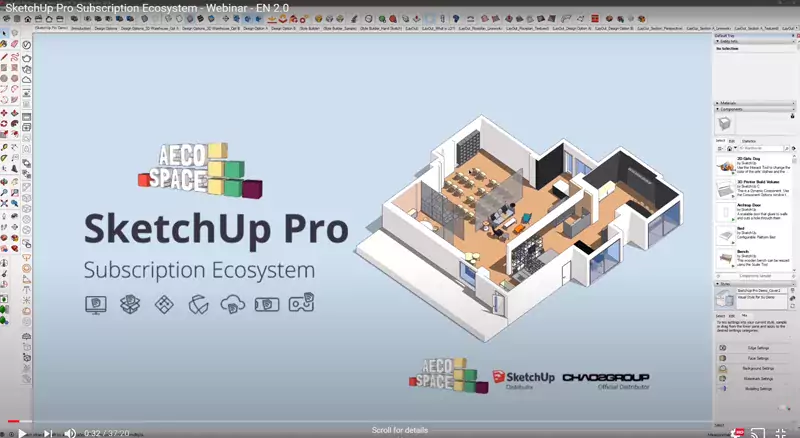 Last but not least, we choose SketchUp software because it is easy to use. It also has an intuitive interface. This software was developed in 2000 to make 3D models and has gained popularity ever since.
SketchUp home and interior design software are used by architects, civil engineers, and landscape architects. However, this software offers three paid versions for its users to help them create exclusive layouts: pro, shop, and studio.
SketchUp Pro version is used to design the interior of your house with the best suitable and most comfortable surfaces. You can make perfect 3D models by using multiple features of this tool.
SketchUp software is web-based. You can use it from any Mac computer or windows. This software offers a free trial for a month to learn about the basics of 3D modeling. You can import and export high-profile graphic images to your mobile apps to view 3D models anywhere you can.
Visualize your dream ideas easily by using SketchUp home and interior design software. Change the world!
| | |
| --- | --- |
| Pros | Cons |
| Overall best software to turn your dream into reality | Some of you might face difficulty in positioning the objects, difficulty maneuvering it |
| Easy to learn | |
| It has an intuitive interface | |
Final Verdict
Bring your imaginary interior designing ideas into reality by choosing the best five home and interior design software mentioned above. If you are new and an apprentice in this field, we suggest you opt for Easyhome Homestyler. And if you are an expert and want to create new innovations and ultimate designs, go for virtual architect top home design.
We have done in-depth research in making the list of mentioned five software. You can count on us. If you still have any ambiguities, shoot us with questions; we will exert ourselves fully to help you out in this.