Best Toys and Gift Ideas For 1-Year Old in Your Life
It's easier to find toys and gifts for children but for 1-year-old kids; it's quite challenging. Though there are several brands and companies claiming to manufacture the best quality toys and gift ideas for 1-year old in your life. There are some factors you need to check out, and not all the claims made by the manufacturers are accurate as always.
Be it any occasion of the year; gifts are helpful in creating a better relationship with a child. Plus, the toys help children play around and grow their confidence while they are growing as a person. Next time you are invited to a 1-year-old kid's birthday party, or you are planning to get toys for an occasion; this article has mentioned the best toys and gift ideas for toddlers in your life.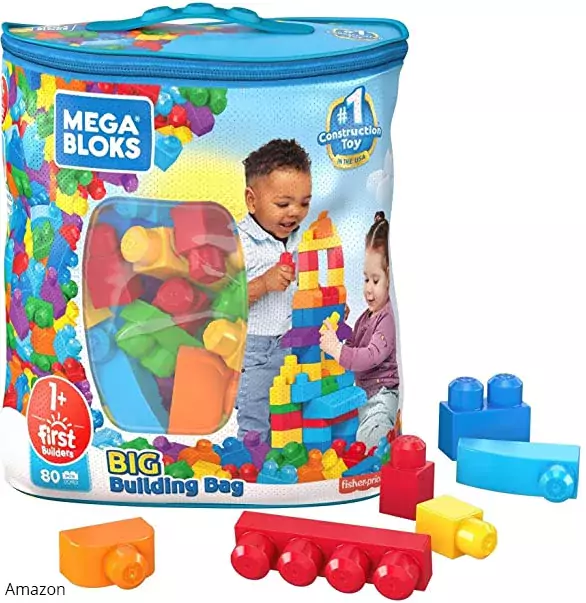 Spark creativity and imaginative thinking in your child by providing a building bag of Mega Bloks. Different shapes in various colors, Mega Bloks, is a perfect gift for a 12 months baby. Bloks play a vital role in childhood development as the baby learns to build new structures by combining different blocks.
Combine it with other toys, build tall towers, animals, or any other shape, explore different options, and brings creativity to life.
| | |
| --- | --- |
| Pros | Cons |
| Storage bag for easy cleanup | Children get bored after several usages |
| Learn names of different shapes | |
| Helps in color differentiation | |
2

Personalized Wood Name Puzzle
It is important for kids to learn how to spell their name correctly and if you make it learn with toys, there cannot be a perfect gift. Now gift 1-year-old baby the Personalized Wood Name Puzzle, and the baby will learn their own name in no time.
Made from food-grade ingredients, it is perfectly safe for all ages kids. Easy to switch letters; see how many names you can suggest with the given alphabets.
| | |
| --- | --- |
| Pros | Cons |
| Colorful Alphabets | Short term use |
| Symmetrical placement | |
| Custom engraved message | |
A puzzle is the best way to engage children and as well as toddlers. For a 1-year-old baby, helping them learn numbers and alphabets is now much easier as you can do it with ABC-123 Chunky Puzzle.
Creativity and learning go hand in hand; it serves as the perfect gift for a child. Made from wood material, the puzzle is going to last forever.
| | |
| --- | --- |
| Pros | Cons |
| Helps teach letters and numbers | Limited numbers and alphabets |
| Matching pictures under pieces | |
| Encourage learning | |
| Whimsical designs | |
4

Squeezmeez Whale, Squeezable Stuffed Animal
Made from ultra-soft plush material and fabric, squeeze it the way you want; it will always return to its original shape. With different themes, colors, shapes, and styles, it is a perfect gift for all ages.
Hug them, or squeeze; it is a long-lasting gift you can give to someone. Adorable, lovely, and valuable, no matter the occasion, it serves as the best gift.
| | |
| --- | --- |
| Pros | Cons |
| Long-lasting | Needs cleaning once in a while |
| Cost-effective | |
| Cuddly and charming | |
| Also serves as a stress reliever | |
Get your kid familiar with different species of animals from the forest to the oceans. A perfect gift for kids of all ages, with three different modes, it teaches you animal names, their sounds and also lets you know the fun facts.
The kid will never get bored of it and will be familiar with animals of different kinds. The book speaks in two different languages, English and Spanish. A valuable addition to children's life.
| | |
| --- | --- |
| Pros | Cons |
| Interactive Pages | Requires battery to operate |
| Fun learning songs | |
| Pre-programmed modes | |
| Easy to use for all | |
6

First Shapes Circles – Beginner Puzzle Set
The puzzle is an interactive way to help your child think out of the box. Learning and development go together when you have the right set of a puzzle for your kids. For a 1-year-old baby, First Shapes Circle – Beginner level puzzle set is a perfect choice as it contains as many as 16 pieces of fun illustrations shapes. Learning is made fun of for children.
| | |
| --- | --- |
| Pros | Cons |
| Play and learn easily | Different shapes can be included |
| Colorful designs | |
| Comes in a box | |
7

Sweet Treats Musical Tea Set
Kids find playing with pots and utensils enjoyable, but they might get themselves hurt in one way or another. If a baby seems to be interested in such items, gifting a Sweet Treats Musical Tea Set is a perfect choice.
Musical deluxe tea set helps your kid learn vocabulary, counting, matching, and a number of different things. It lights up in different colors and also plays tea songs when you want.
| | |
| --- | --- |
| Pros | Cons |
| Include 30 different play pieces | Reliability can be improved |
| Learn through play modes | |
| Brew five different tea flavors | |
8

Sit-to-Stand Learning Walker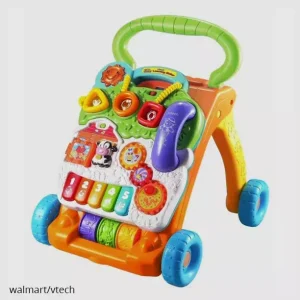 Every toddler wants to walk on their own feet as soon as they can, and they get hurt several times while trying. What if you gift them a toy that helps them walk? Yes, Sit-to-Stand Learning Walker is made just for babies.
A removable play panel is also attached for interactive learning activities and piano keys to give it musical touch. Light-up buttons and colorful wheels, there cannot be a better gift for a 1-year-old in your life.
| | |
| --- | --- |
| Pros | Cons |
| Adjustable two-speed control switch | The grip on the tires could be improved |
| Discover shapes, colors, numbers, and animals | |
| Motor skills development | |
| Protects beginner walkers | |
Whether it's playtime or sleeping time, Musical Rhymes Book plays its part. It's a valuable addition to one's family having a 1-year-old baby. This product gives you engaging nursery rhymes as you turn different pages. Learning instruments, sounds, vocabulary, and music has now become much easier for the kids. With different buttons playing different sounds, Musical Rhymes Book is fun and engaging.
| | |
| --- | --- |
| Pros | Cons |
| Instrument sounds | Volume control can be improved |
| Nursery rhymes | |
| BPA free | |
| Perfect for a gift | |
Dolls are everyone's favorite, especially the kids. If you are planning to buy a gift for a 1-year-old baby, Sweet Smiles Doll can be the best choice. With an adorable smile, wearing beautiful clothes, black eyes, and wearing a headband, this sweet smile doll is what you all need to bring a smile to a baby's face.
Soft-touch and nontoxic material; play with it any time you want. Easy to store and clean, it does not consume much space.
| | |
| --- | --- |
| Pros | Cons |
| Washable | No additional clothes in the package |
| Durable | |
| Cost-effective | |
| The perfect friend for a baby girl | |
Conclusion
Now choosing the best gifts and toys for a 1-year-old baby is made easier; all you need is to go through this article as it highlights different products that you can have at the best price. The article also highlights quick features, pros/cons of each product so that you choose the best for babies.